 We are very proud of our Delphis Eco products, and in this post, we are going to focus on our Antibacterial Sanitiser. 
2020 must have been the biggest year for sanitizing products. With surfaces regularly coming under fire as points of transmission for COVID-19, it is important to make sure that we have the right tools to maintain a safe environment. However, it can be all too easy to choose a product that sanitises your home at the expense of the environment. The Society Company's Anti-Bacterial Sanitiser By Delphis Eco (500ml) enables you to make a sustainable choice whilst simultaneously using a highly effective, top quality product. 
Firstly, a little background into their business. Delphis Eco was started in the UK in 2007 with the aim of having a net positive impact, providing products focused on the environment. Tasking themselves with the premise that their products must be as good or better than the existing nasty products and be formulated with aquatic organisms in mind, they saw an opportunity to save millions of litres of nasty cleaning products from going into the environment everyday.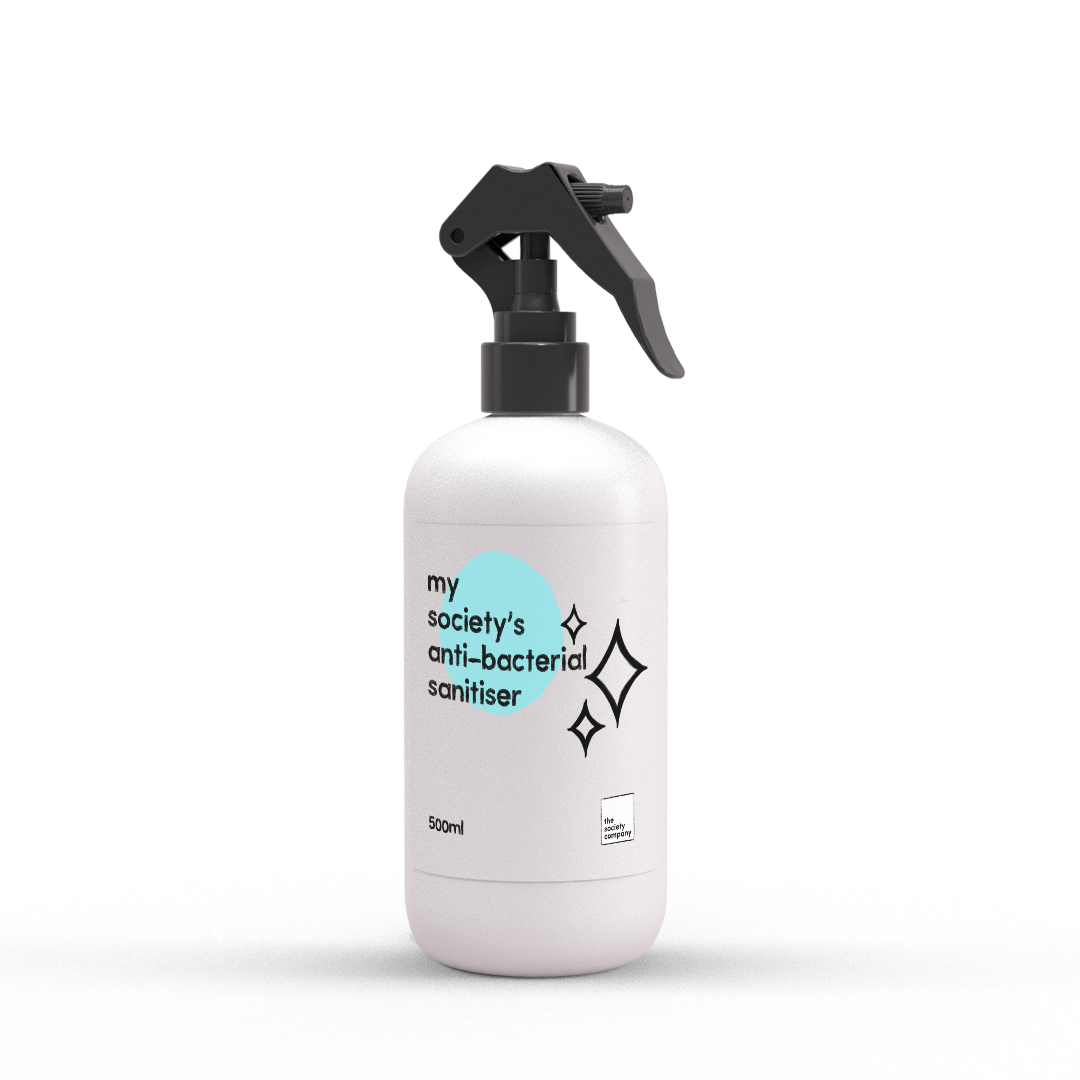 Delphis Eco's products are trusted to clean palaces, schools, hospitals, restaurants, and everything in between, so our Antibacterial Sanitiser should be more than up to the job of sanitizing your kitchen table! 
The serious stuff: This Anti-Bacterial Sanitiser & Cleaner is a highly effective Virucidal Sanitiser and Disinfectant cleaner. It has a QUAT (quaternary ammonium compound) based formulation which is a highly effective antiseptic and disinfectant. It has strong bacterial, fungicidal and virucidal activity against enveloped viruses. Use on all hard surfaces in the kitchen to protect you and your family. It kills 99.999% of germs and bacteria, stopping the spread of harmful infection.
Rather than using Delphis Eco's own packing, we have bottled our Anti-Bacterial Sanitiser in our refillable 500ml spray bottles. We are on a mission to stop single use plastics and as our bottles are returnable, we hope to stop the cycle of seemingly endless spray bottles being sent off to landfills or recycling centres. After you have finished with the product, just return it to a community hub or hand it over at your next home delivery. We are then able to clean and refill the bottles for the next user!  
At The Society Company, there is a huge emphasis on the importance of sourcing high quality ethical products for both our in house product range and branded products. Reducing our plastic waste is very important but there are many factors which influence our decisions when we are choosing our product range. This week we are spotlighting our Coconut Milk.
Where possible, we try to offer organic options for our customers and our Biona Organic Coconut Milk is a good example of this. Biona is a great brand in-line with our values. Built on an unwavering commitment to 100% organic, ethically and sustainably sourced food, Biona began life on a kitchen table in London over 35 years ago. More recently, they have been working hard to minimise the use of plastic in all Biona products, and their goal is to be as sustainable as possible. Biona have recently invested in the removal of BPAs from all of their canned goods too!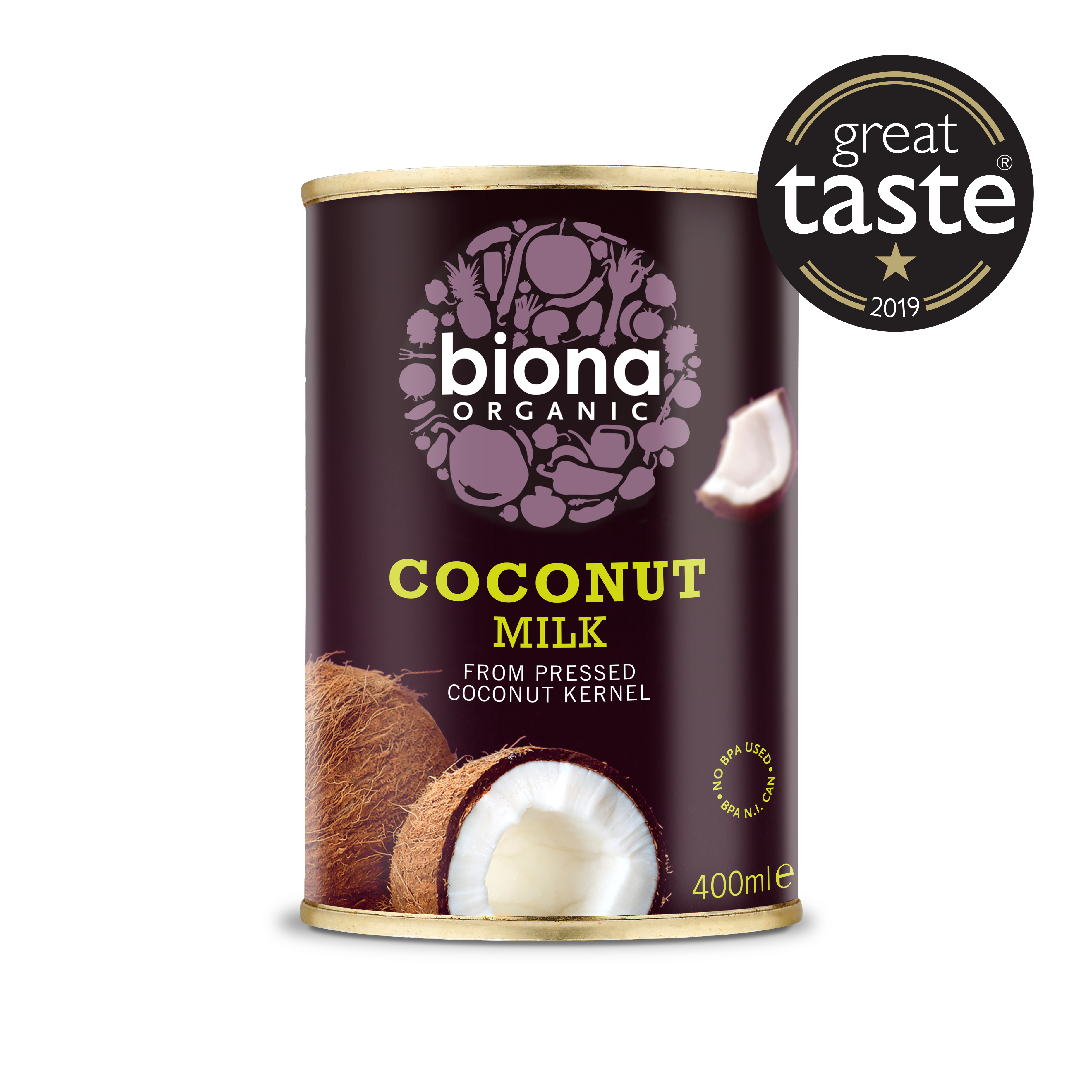 Bringing a little luxury to dishes, Biona silky coconut milk can be used in everything from aromatic curries to dairy-free ice cream. Use as a vegan cream substitute and pour straight into plain rice or chickpea dahls to add subtle sweetness, or try a little stirred into your morning smoothie for a tropical twist. Pressed from coconut kernels, our natural coconut milk contains no artificial ingredients. As a result, the coconut fat and water content can separate, but this has no impact on the final quality of the product: simply shake the can or blend the contents to combine.
Recipe:  
Why not try to make homemade coconut yogurt with this Biona recipe and top it with some of our Banana Chips or nestle it on some of our Honey Toasted Oat Granola Base! 
At The Society Company, we have a great range of products to help you start your day. Known as our Morning Range, we can supply you with a range of ethically sourced products for you and your family to enjoy first thing. From Ground Coffee Beans from Terrone to Organic Crunchy Peanut Butter, we've got you covered. In this spotlight, we wanted to introduce you to our Organic Muesli Base. 
We try to offer Organic products as much as possible, and our Muesli Base is a good example of this. It is a high quality simple mix of oats, wheat and barley. The idea is that sometimes it's best to keep things simple but if you want to put your own spin on it, you can create your own personal muesli perfection. It's a great starting point, being very high in fibre and with no added sugar. We like to mix it up each morning and use our Banana Chips or Jumbo Raisins (both also found in the Morning Range) with some fresh fruit if we have some. It can also be used as a multi-flake porridge by adding some of our Organic Oatly oat milk and heating up! As a treat, we like to add our Belgian Dark Chocolate Drops from Callebaut (70% Cocoa) to make a delicious chocolate multi-flake porridge.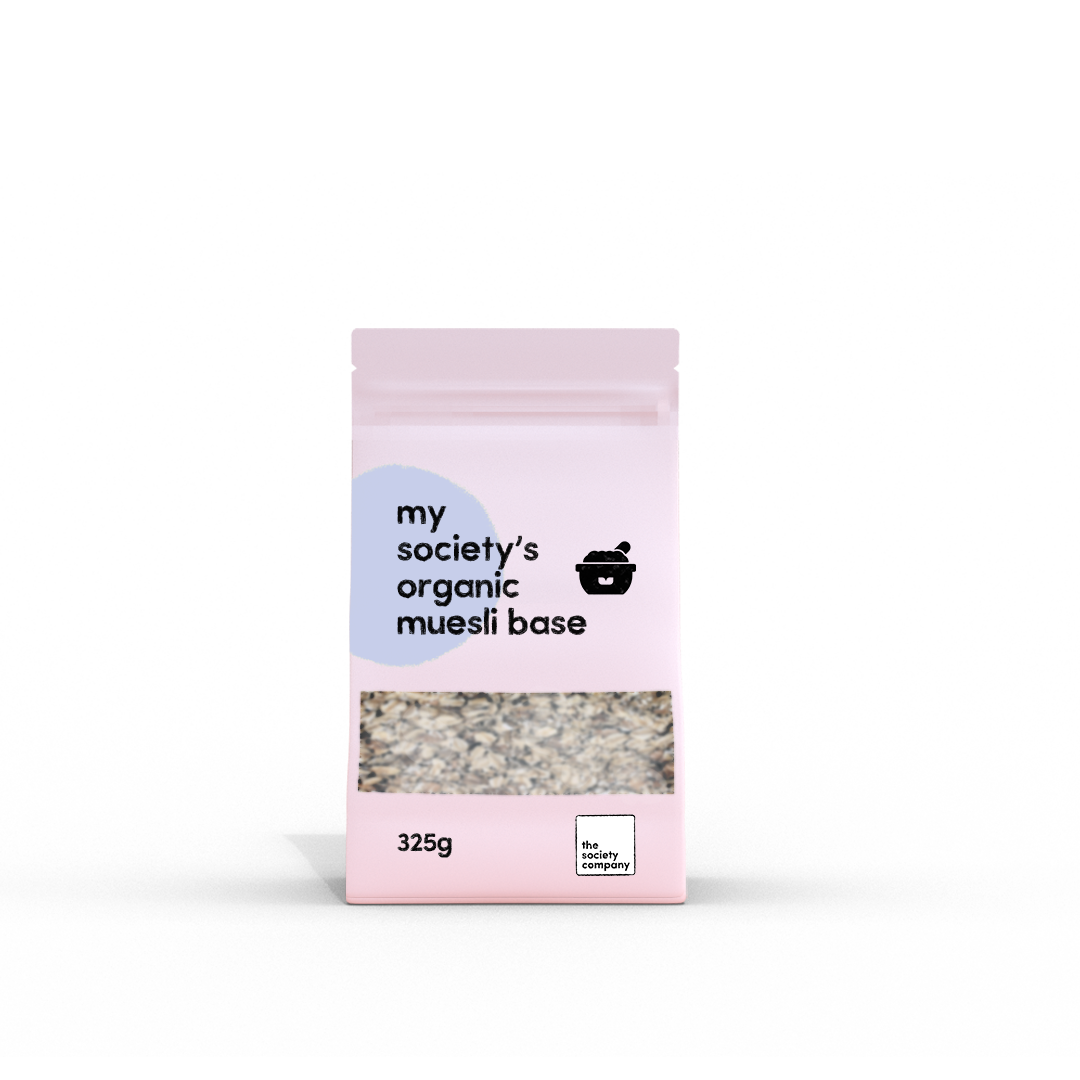 Our Organic Muesli Base can also be a handy product to have in the house for baking as well as breakfasting! You may like to use these flakes to garnish a homemade loaf of bread, stir into scones for extra fibre or use this blend as the basis for flapjacks. The possibilities are endless! 
The virtues of this product doesn't stop here. Our supplier is one of the UK's leading wholesale distributors of Organic and natural foods. They have a firm commitment to promoting Organics, and have been at the forefront of introducing organic choice to the British consumer. They are a workers co-operative who gauge their success not only in terms of profit and growth, but also through environmental and social responsibility. As well as their support for organic movement, they have been at the forefront of the campaign against GMO.